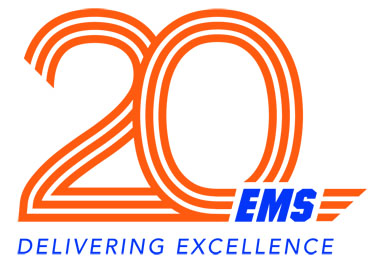 Thanks to efforts from members, volume growth of the EMS network has increased by more than 150%, proof that today EMS is commercially and strategically important for postal operators and their customers. 
In 2019, EMS Cooperative members came together for a very special celebration of 20 years since the founding of the EMS Cooperative. The importance of EMS was underlined by members by travelling to UPU headquarters in Berne in March 2019 to celebrate the achievements of the EMS Cooperative, including presentations from chief executives from Brazil Post, Cayman Islands Post, and China Post. Members at the event were also first to view a new video celebrating the achievements of the EMS Cooperative (above).
As part of the 20th anniversary celebrations the EMS Cooperative held an photo competition, 'EMS connecting the world'. EMS postal operators sent some creative images showing the importance of EMS around the world. Congratulations to the winning entry Vanuatu. Other winners were joint second place for Georgia and Latvia. Third place went to Viet Nam.
Members around the word are showing their pride in EMS by issuing an EMS Cooperative commemorative stamp celebrating the EMS Cooperative's 20th anniversary. The EMS stamp was launched in 2019 on 10 September, the exact date of the founding of the EMS Cooperative.