Customer care - the heart of EMS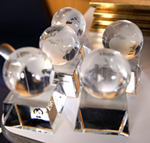 EMS customers deserve excellent service when sending items internationally. 
Each year EMS Cooperative members' customer service performance is measured. Only when EMS member postal operators achieve the high-standards set out in the EMS Cooperative's Business Plan will they receive an EMS customer care award in recognition of the quality of their customer service call centre.
2016 EMS Customer Care Award Winners
The Cooperative's EMS Customer Care Awards recognise and reward outstanding EMS service. Congratulations to the EMS Customer Care Award winners for 2016.
Small group - 0-500 inquiries: Cambodia; Luxembourg; Romania
Medium group - 501-5000 inquiries: Macao, China; Korea (Rep.); Singapore; Thailand; Viet Nam
Large group - over 5000 inquiries: China (People's Rep.)
The awards were announced and presented at the EMS Cooperative General Assembly in March 2017.